Happy Mother's Day Messages
Make your Mother's Day bright by sending her your warmest and
heartfelt messages. Come on…Don't shy. Think of some beautiful
words, for we all all owe our Mothers a Big Thank You Message!!
Mother is a part of God.
Mother is a part of Love.
Mother is a part of our Strength.
Mother is a part of our Winning.
Mother is a part of who direct us to right path to proceed.
and ..and ..so on..
I Love my Mother very much…..
Don't let ur Mother get away from u….
Happy Mother's Day..
Sandeep Gupta
How did you find the energy, Mom
To do all the things you did,
To be teacher, nurse and counselor
To me, when I was a kid.
How did you do it all, Mom,
Be a chauffeur, cook and friend,
Yet find time to be a playmate,
I just can't comprehend.
I see now it was love, Mom
That made you come whenever I'd call,
Your inexhaustible love, Mom
And I thank you for it all.
Maheenshah Mahnoor
Dear Mother (martha letsoalo),
Motherhood is tough 24 hour job,no pay,no day off, sometimes it is unappreciated, but yet resignation is impossible. A mother is a woman who created by God to bring love, joy, happiness and caring into his world. I am so glad God has created a woman to be a mother, even though motherhood is a full time job, a mother's work is never done. Happy Mother's Day.
Regina letsoalo
I love my mother yes i do, for she is the one that has been there too! I love my mother yes i do. For if i had no mother like the one i do, i would be lonely, clueless, as well as you. I love my mother yes i do for she is the one that taught me too. So HAPPY MOTHERS DAY FOR ALL OF THOSE MOTHERS OUT THERE TOO!
Chad Reid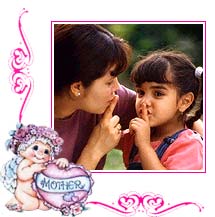 Happy Mother's Day, I love you i hope you have fun. i love you so much. you are the best.you are the music in me. thank-you for being there for me i love you. happy mother's day mother. Did you know you are every thing to me, princess, king, mom, mother, brother, sister, you are every thing to me. I LOVE YOU SO MUCH THAT I KEEP ON REPEATING IT OVER AND OVER. I LOVE YOU.
I love you you love me were a happy family with a great big hug and a great big kiss make your wishes come true with every kiss?
Sandra
I would like to take this chance to greet my mom a Happy Mother's Day as I won't be there with my family this coming May! My silence for a while doesn't mean that I don't care. But God knows how grateful I am because you raised us three kids very well. Greetings all the way from Vancouver!
Darryl Palapuz
maa hi pahele sidi jivan ki
maa hi deti hai bagia ko ki dali ko sahara
maa tum hi ho jise mene har samay apne saath paya
Shalini Sharma
MY MUM
MY MUM LOVES ME TO BITS
AND I LOVE HER MORE THAN SHE LOVES ME
SHE GIVES ME WHAN THE MOST "HER LOVE AND HER"
Keely Johnson
tu kitni achi hai,
tu kitni bholi hi,
oh ma
Pooja Merchant
Mom I love you! Thanks for everything you have given me, or will give me. You will never know how much I love you XOXO
Holly S
Hi Mom
You will never know how special you are to me. You have tought me to be a mom. Over the years i watched you and today i walk in the foot steps of you to be a good example to my daughter and a leading role model mom just like you.
I love you mom with all my heart.
love samantha
I can say only one thing to my Mom … She Gave me and my child a second chance in life. I love her so much it hurts… I wish she is a part of my life for ever, I love u ma, Happy Mothers Day
Dipti